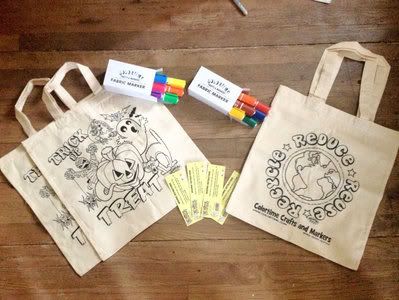 I got a great package of goodies yesterday, which was amazing because I only found out that I won a contest the day before. Colortime sent my prize out. Speedy. Efficient. Seriously. I got an email from them saying I won, and I got an email with the shipping information. I wish every company did that (I guess not so much for things you won...they might have a lot to send then, but for things you buy...) Anyhow... My kids are antsy to do these bags. As in, "I can do my chores later and homework on the bus," type of antsy. Antsy-ness denied of course. What kind of mom do you think I am? I may let them watch zombie movies and eat snacks that will keep them up all night, but I know when to draw the line.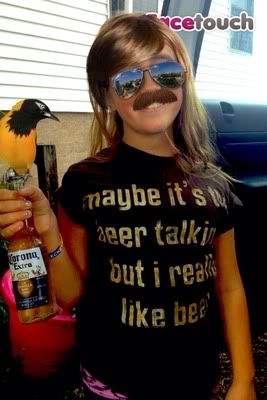 Right... back on topic. So, after denying them their chance to do a craft for the evening and making them do their homework, I put the Colortime bags on the table to do another day. Like, when the kids are at school. Ok... so I didn't do all of them. Just one. And only because I wanted to see just how good the markers were. I've made plenty of shirts and bags and shoes with fabric markers. Honestly, most markers suck. They bleed. They fade. There's enough ink to do maybe one shirt. IF you're lucky.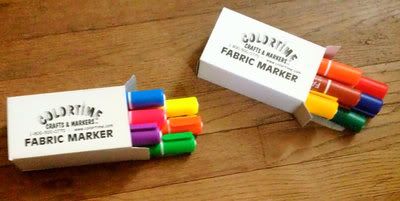 So, I was curious. I got the markers out and grabbed one of the recycle bags. I knew it would be less heartbreaking than coloring the awesome Halloween bags. (Which, by the way, solved my trick-or-treat bag need)
Colortime says....Helpful Tip: Please make sure fabric marker caps are snapped tightly and they will last for many uses. With proper care, our fabric markers will enable you to add vivid, long-lasting color to about 10-15 shirts.

Scribble Scribble Scribble. Two tone green Earth. Easy enough. They sent two greens. Sweet.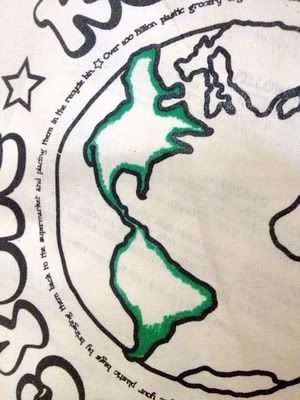 Now, if you've read other posts, you know I'm an out of work graphic designer. I like color. I love lines. I'm still a big kid at heart. So... of course I went and experimented. These markers blend beautifully. I used the light color first (after realizing how stupid it would be to try the other way) and then darkened in shadows or texture with the darker shade.
Honestly, I wish I had more colors. I loved doing this. It was a blast shading the colors into the others.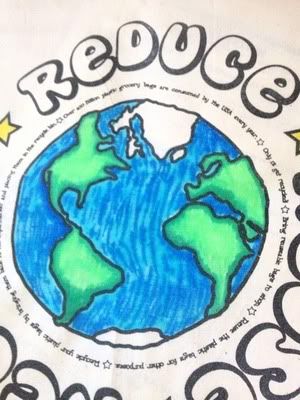 I did it as it was wet. And now, typing this, and looking at my hand, I realize I was silly about it. Hold on... I'll take a picture to show you...
I'm left handed. OOPS. I can say, I was very happy it didn't smear at all when I was doing the blending. SWEET!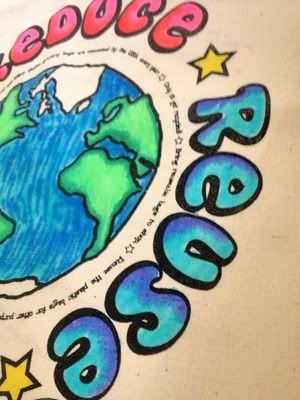 It really is a great product for kids (of all ages)
I'm going to let my kids do their bags tomorrow night. And perhaps they can do the other recycle one together.
I hope Colortime decides to add more colors and designs to their already awesome selection.
I'd absolutely love to see them come up with a glow in the dark marker. I'd be banging on their door to test the product.
I'd also love to see designs aimed at tweens and teens. My two girls, though they are big goofballs, like the more hip stuff that all kids their age like.
They're having a blast with these, but if they had more designs that were tween and teen friendly, they'd be showing them off to all their friends.
All in all, Colortime products are great for kids (and adults) who like to color and have fun personalizing what they wear.
Want to color? Visit http://www.colortime.com/Free-Coloring-Pages-c64.html for some sweet downloadable sheets.
Like them on facebook too. You'll get some super awesome deals.
http://www.facebook.com/colortimecrafts